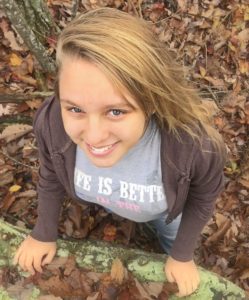 My Food
I love all animals, and I don't want to eat them or anything that comes out of them!  I think vegan food should be tasty enough that everyone will love it, no matter if they're vegan or not. Someone shouldn't taste your food and say "It tastes vegan" in a negative context.
My Story
My name is Allyssa, I graduated high school at the age of fifteen and shortly thereafter I started Tasty Vegan. I have not been a vegan all my life. Up to the age of five I was in foster care because my biological parents cared more about drugs then me.  I was adopted into a wonderful family who were, and still are, passionate about vegan food. My new mom had vegan recipes stashed away everywhere, and it wasn't long before I started cooking for my family and developing my passion for vegan food. The first Thanksgiving I remember we went to my great Grandma's house. My mom told me that there was a long line of vegetarian and vegan cooks in my new family going back for generations. Each year the family got together and enjoyed an amazing vegan turkey gobbler. The recipe had been developed and passed down through five generations! You may ask "How is that even possible?" My great, great, great Grandma became a Seventh Day Adventist and S.D.A's believe the vegan diet is the original Biblical diet.
Over the years my mother and I have perfected this special passed down recipe. Now you too can enjoy this amazing family treasure, The Vegan Gobbler. My goal is to make The Vegan Gobbler available for purchase this summer, with other amazing food coming soon too.